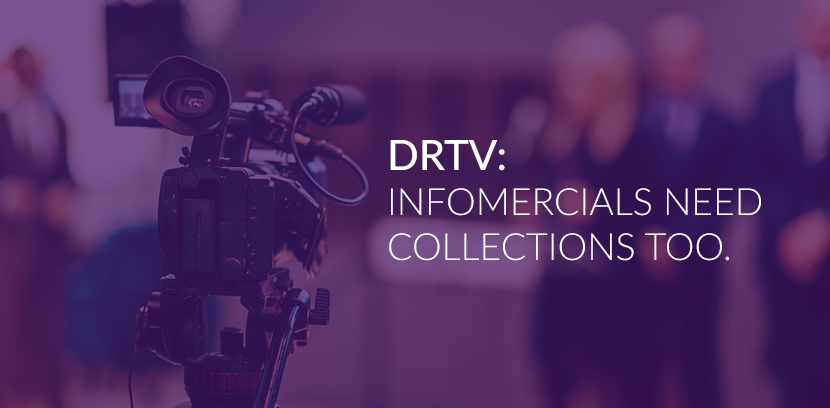 Turn on the TV in the middle of the night or any time on certain channels and you'll see an infomercial touting everything from the latest fitness craze to the best gadgets for your kitchen. Known in the industry as Direct Response TV (a form of direct response marketing), these short and long form commercials create awareness around a product and ask the consumer to respond by purchasing directly from the company via phone or website. Often, the consumer makes a few affordable payments to own the product.
If a customer stops paying on their "as seen on TV" products, direct response retailers still have options to collect.
DRTV: Infomercials need collections too.
What is Direct Response Marketing?
Small businesses and entrepreneur/inventors lean on various mediums for marketing. Direct response means that the business isn't requiring a retailer to sell the product but the expectation is that the consumer will buy directly from the seller. Other forms of direct response marketing could include digital marketing like websites and social media ads, print, mail, radio, telemarketing, and television advertising. With direct response marketing, the sale can be attributed directly to the ad, commercial, or other direct campaigns.
Who Sells On TV?
It's not only small businesses that sell through DRTV. Many larger brands may opt to sell through infomercials as part of an overall synergistic marketing program. Some traditional marketing agencies may not have direct response expertise so there are DRTV-specific agencies that host many successful client campaigns. Brands or agencies that opt to use DRTV must build a compelling story to keep viewers interested, decide on frequency and which media channel, and finish with a strong call-to-action so the consumer will pick up the phone or at least research the brand online for more awareness.
How Do DRTV Consumers Buy?
Some "as seen on TV" products may eventually be sold at retail stores and is therefore a one-time sale. When sold over the phone or online, however, these products are often sold as payment plans. The payment plans may be "6 easy payments of $39.99" or something similar. The product is shipped to the consumer with the understanding that they will complete the purchase over time.
But Wait... There's More. What If the Consumer Stops Paying?
The product has already been shipped so some customers may not hold up their end of the bargain. The product owner can hire a collections agency to help recover the account. A collections agency can help cure the broken promise to pay by setting the customer up on a new payment plan. Another option is to go after the full balance of the sale from the customer. Some collections agencies don't even charge a fee unless they're able to collect what's owed.
Infomercials other direct response marketing media are getting more polished as consumers grow ad-weary. Technology and the ability to measure the success of advertising is helpful in determining future uses of DRTV and consumer buying preferences. Selling directly to consumers, however, doesn't mean the product owners don't have options to collect what's owed to them. BYL Collections can help make sure customers who drop off their payment plans get back on track.
Read more: 6 Tips for Hiring the Right Debt Collections Partner