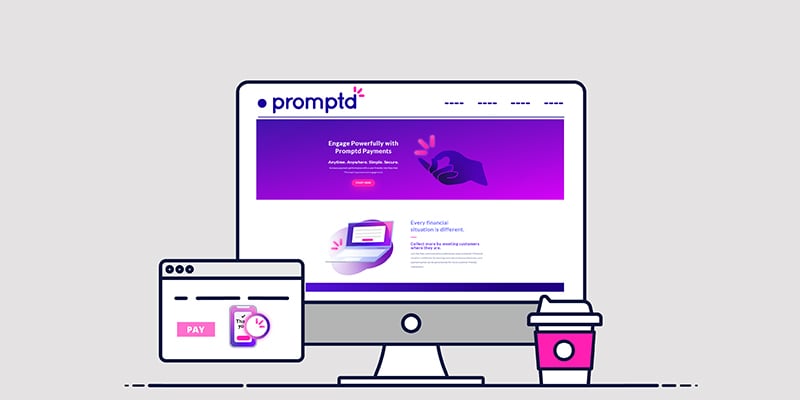 BYL Services offers a secure customer payment portal for our consumer-facing clients called MyBalanceOnline.com. Clients such as healthcare, property management, utilities, and more have adopted this option for accounts receivable collections and bad debt recovery.
We're excited to announce a relaunch and upgrade from MyBalanceOnline to Promptd™ Payment Portal. The new payment portal is more user-friendly and personalized to increase payment performance and customer satisfaction.
Read on to learn more about this new announcement.
What "Prompted" the Change?
Promptd™ improves upon MyBalanceOnline.com with a cleaner design and more customer-friendly interactions. The new payment portal also offers a suite of dashboard reporting, account management, and flexible payment services to meet the needs of the consumer payment industry. The rebranding was born from the growing demand for a clear and simple design, personalized communication preferences, and mobile-friendly payment options.
What Is Different in Promptd™?
As long as we've been in the customer payments business, we've learned that every customer's financial situation is different and their communications preferences are too.
The Promptd™ Payment Portal enables clients to trigger customized billing and payment alerts to its customers while offering options to make a one-time payment, establish flexible payment plans and view transaction histories. Clients can configure collection messages to prompt a customer via text, email, and mail to view their billing statement, update health insurance details, settle a past-due account, and more.
Promptd™ provides clean and powerful dashboard reporting and analytics. Leveraging data from Promptd's Payment Portal, combined with the company's preferences and back-office call center, clients can view customer adoption rates, call handled rates, customer satisfaction results, and cash collections.
How Can I Become a Promptd™ Client or Upgrade?
If you're interested in becoming a Promptd™ client, seeing a demo, or upgrading from MyBalanceOnline.com, contact us at this link. We will be happy to show you around or answer any questions you may have.
To learn more about the Promptd™ Payment Portal, visit https://promptd.com/.