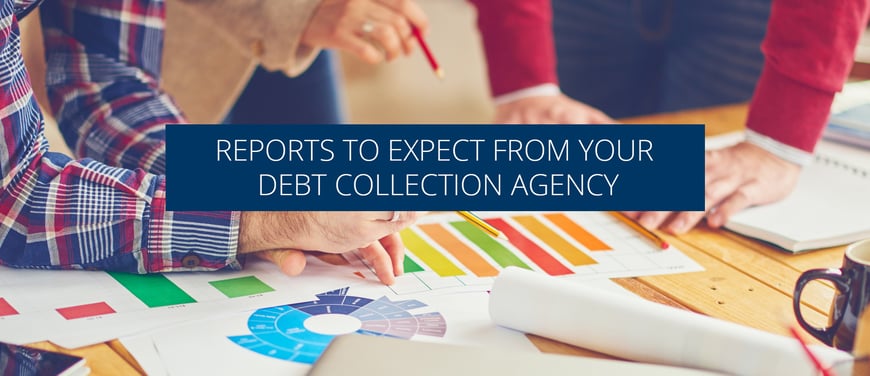 Businesses have to consider many options when selecting a debt collections agency. Obviously, the agency must be licensed, insured and compliant with various federal and state regulations. Beyond that, businesses must also find that they can trust the debt collections agency to do what they are hired to do. Reporting is one such form of effective communication that gives companies the assurance that they have hired the right agency.
Here are a few reports that should be expected from your debt collections agency.
acknowledgment Reports
Once an organization chooses to work with a debt collection vendor, one of the first reports they should receive is an acknowledgment report. This report itemizes each account assigned to collections, including the amount of debt owed for each individual placement. It's important to cross reference this report with your records, as it will help ensure your collection agency received (and imported) the correct number of accounts and dollars. At a minimum, this should be the one report your collection agency sends on a frequent basis (assuming your business sends accounts to collections on a regular schedule).
Other Report Examples
Other types of reporting that may be of interest when hiring a debt collections agency include:
Call logs - These logs detail how often a customer was called and when.
Notes - The collector's notes on your accounts will give you an idea of the interaction with the customer.
Collection reports - The collections reports will itemize which accounts were placed and the status of collections efforts.
Demographics - Sometimes, attempts to collect may be unsuccessful due to lack of or erroneous information. Demographic reports include this information.
Many companies would prefer to see reporting above and beyond the industry standard. Understanding the data that's available and the key performance indicators used in-house can be helpful to create more customized reports.
Key Performance Indicators
A Key Performance Indicator (KPI) is a business term that measures performance. Some of the KPI's that would offer an evaluation of debt collection efforts include:
Days Sales Outstanding (DSO) - DSO is a way to track the number of days that receivables are outstanding. This number helps to measure the effectiveness of the collections process.
Cost of Collections - The Cost of Collections indicator allows businesses to measure the full cost of collecting on bad debt. A lower percentage is a higher effectiveness.
Collections Effectiveness Index (CEI) - This formula exposes the ability of the collections agency or department to collect funds.
These are a few ways that businesses may choose to look at the total collection efforts of an agency. With communication, reporting and transparency, organizations can stay involved with the collections process.
Customizable Reports
While many debt collections vendors may claim custom reporting for their clients, BYL is proud to offer truly robust and customizable reports with Tableau. The use of the Tableau product has allowed us to break down data by as many points as possible. This allows BYL clients to view reporting in any way they can imagine. As an example:
We understand that organizations have to consider the cost and many other factors when selecting a debt collections agency. At BYL, we do our best to educate and inform throughout every step in the collections process. If your business is looking to hire a collections agency, click on the blue button below for a personalized quote.